Admissions
The Meadows Primary Academy is a two-form entry school. The age range of our children is 3-11 years. Stoke-On-Trent City Council is the Admissions authority for the school.
If you would like to apply for a place for your child who is transferring from another school then please contact the school to organise a visit to look around and discuss any special arrangements that may be required for your child.
We follow the Stoke on Trent Admissions Policy for 2020/21 & 2021/22, which can be accessed here
Nursery Applications:
At The Meadows Primary Academy we offer full time places (30 hours per week) for our Nursery children.
For normal round admissions for nursery and reception, you will need to complete the online application form through the following link www.stoke.gov.uk/admissions
We will be holding several Open Day events throughout October, November, December & January which we would love for you to attend. Please see the banner below for dates and times and don't forget to let us know if you are wanting to attend, either via e: office@tmpa.org.uk or t: 01782 235025.
Please speak to our school office team if you would like any further information.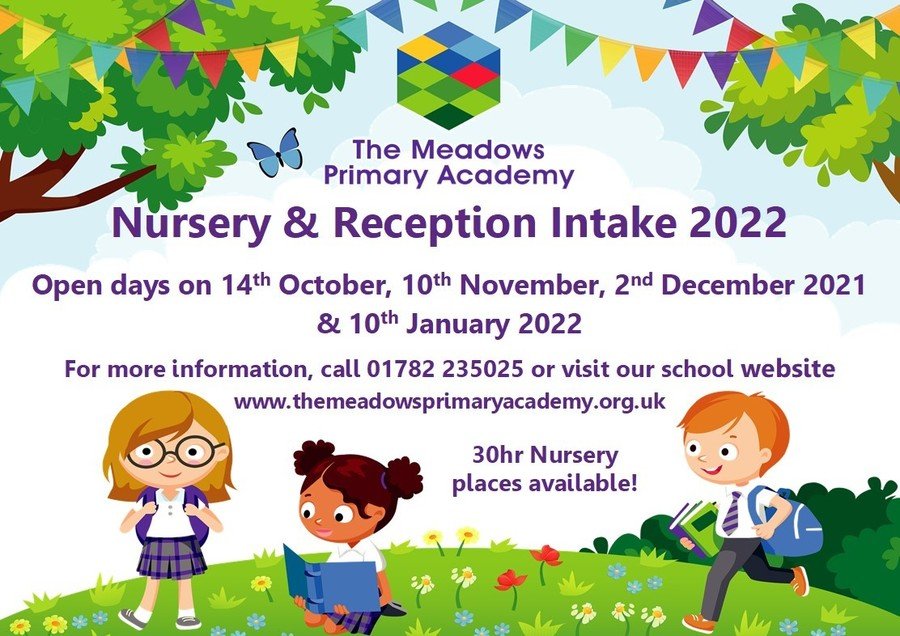 Nursery & Reception September 2021 Starters
For all the parents of our new starters in Nursery & Reception this September 2020, please take a look at our Welcome video below. In this video we will share with you all key information that you need to know before your child starts in September. Normally, we like to do this face to face in school but unfortunately due to COVID-19 this has not been possible.
If after watching this video you have any further questions please don't hesitate to contact the office on 01782 235025 or office@tmpa.org. Or, alternatively you can speak to your child's class teacher at one of the Stay & Plays organised in August or during your call with their teacher in July.
We look forward to seeing all the children in school in September!
You can also find out about our admission arrangements from our local authority. Please click here for more information.